tter:
having gotten bored with my usual login name, during a spate of random goofy cybersex people logging on i decided to make fun of the situation by creating the login otter, and poised myself as actually being a 3 year old female sea otter from off the coast of monterey; otter/f/3/likes crushed mussels, and proceeded to aggressively cybersex any random logins looking for hot young meat, in a maritime idiom of course: "*cracks your carapace with a small rock balanced on my belly*, "sucks the juices from your spiny thorax*, etc. it stuck.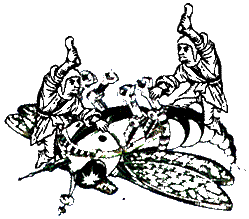 josefa:
is actually one of the many various spellings of my real name, and the first chat name i ever took; it seemed more obviously gender-typed than jose would, yet for several years a number of people still assumed i was a gay hispanic male. shrug.
alia:
is my "snooping" account,Alia Singh, which, despite the aural pun which should give it away right off the bat, tends to find itself hit on constantly by Indian nationals. shrug.