was I arrived at UCSC in the summer of 1986 and had an account on b by Fall. By first account was spirit. It was suggested by one of my best friends because it captured the idea of what a "free-spirit" I was. Several years later I changed the account to bast to reflect my Pagan spirituality. I had account under both names at The Armory as well.
I became very involved in "the bgeek community" in my time there. I was a hard-core SF/F fan who had moved from the Midwest to California only two years before. We bgeeks were a rowdy bunch with lots of house parties at Geek houses with names like The Armory, The Institute and The Cathouse. We stayed up late into the night and often invaded local all-night restaurants in the middle of the night on "Foodruns." I introduced the wearing of lingerie to parties (by doing so) and it became a popular party style at the time. In 1988, rbnhood and I were married in the redwoods and many of the attendees were bgeeks. (We are still married.) We survived the 1989 Loma Prieta earthquake which destroyed most of downtown Santa Cruz. We lost one friend in the quake and another to suicide that school year. I spent time in shrines in Elfland and fought to save the place. I created Cat's Cradle and was one of the creator's of Caer Ellilon. I made good friends who are still close today. (Thanks, omni.). We did a lot of living, learning and loving in the community. I have painful memories as well as good, but I wouldn't have traded my time with you crazy folks for anything.
I left Santa Cruz in 1994 but return frequently to visit.
Dawn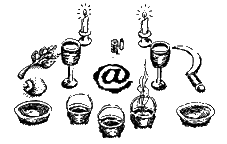 If anyone would like to reach me today, my current email address is: dawn@therabbitwarren.org